Tues 15th November 2011

Hi

Well, another month has past so I thought it was probably time that I sent out an update on what's been happening here at Flavoursome Delights.



And the winner is….



Congratulations to Stephanie from Warren, Ohio in the USA.


She was the first person to respond to my last mail out and is now the proud owner of this set of two carved sandstone candle holders.

A bit about Stephanie in her own words.

"I truly enjoy all types of food and your recipes on flavoursomedelights are awesome.
When my kids were here for Christmas last year we made the chocolate covered liquor cherries and they were
a big hit with everyone. (Everyone is of age so no worries)
Seafood dishes are my favourite and I am partial to dishes that have a sauce or gravy."

In case you're interested, the recipe Stephanie mentioned can be found here.



The next giveaway.




Four Piece Wooden Coaster Set

Rather than giving away some more stone candle holders. This time, I will be giving away a set of coasters made from the wood of a small to mid-sized gum tree that I had to remove from my garden because it was leaning toward the house.

You can see the details on how I made a similar set of coasters here.



On the food front.



I've been busy playing with sugar again this month and have finished photographing and writing up two more recipes for the kinds of candy that I used to just have to buy.


Turkish delight

First up is the final part in my quest to make Rocky Road from scratch, Turkish delight. It takes a lot of love to get this one right, but when you do, it sure is worth it.

Click here to see the recipe

Oh and if you're wondering what Rocky road is you can see the recipe here.

Honeycomb

Finally, my recipe for honeycomb, crunchy, sweet and covered in chocolate, what more needs to be said.

Click here to see the recipe

Well, that's all for now. If you have tried any of our recipes, we'd love to know how they turn out. You can leave us a comment on the recipe page or can even just send us an email to contact@flavoursomedelights.com if you like.
Until next time.
Cheers

Martin
Flavoursome Delights
Tues 25th October 2011

Hi

As promised, the first person to send an email to giveaway@flavoursomedelights.com from an email address that is on our mailing list will receive a set of Carved Sandstone candle holders.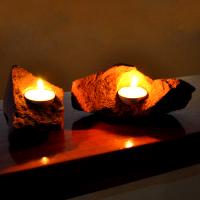 Remember, if you're not signed up yet, you can do it here before you send your entry.

With that, all that is left to say is that I will be in touch with the first person to respond to arrange delivery of your candle holders.

Cheers

Martin
Flavoursome Delights.
Tuesday 18th October 2011

Hi

The last month or so has been rather busy for us here at Flavoursome Delights. Not only have we finished putting together the details about the cooking courses that Tatiana has been teaching at the Central Coast Community College, we also have a few recipes and I have decided it's time I gave away some of my carved sandstone candle holders.

Cheers

Martin
Flavoursome Delights



The Recipes
Cheese Croquettes - Croquetas (croquettes) are extremely popular in Spain. Their beauty lies in the béchamel sauce which is the base of the recipe.

Click here to see the recipe
Biscuits Bretons - Easy to make and delicious, everything I like in a home made biscuit.

Click here to see the recipe
Homemade Marshmallows - Cloud like in its lightness with a sublime flavor. Quite simply, I will never be buying marshmallows from a shop again.

Click here to see the recipe
The Courses
French Patisserie 2011

French patisserie is a culinary art where beauty is as important as taste. In this journey to sweets heaven, you will make the most succulent Tarts, galette des Rois, luscious Profiteroles, crème caramel and bavarois. Surprise your family and friends when baking your own brioche or "Petits Gateaux" (friands, madeleines, etc.). It's easier than you think.

Click here to read more
Mediterranean Cooking 2011

Come along on a journey through the wonderful tastes and aromas of the Mediterranean. Capture the sun kissed flavours of the region by creating a variety of dishes including dips (taramasalata, tzatziki or eggplant caviar), tapas, paella valenciana and chicken tagine with honey and pistachios before completing the experience with baklavadakia for dessert. Don't just dream about it; come along and experience the best in Mediterranean cuisine for yourself.

Click here to read more
The Givaway